Professor Fidget Jones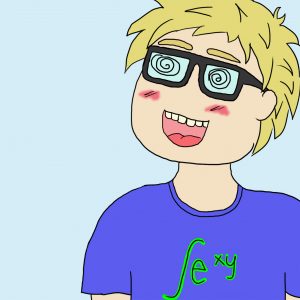 Frederick Ivanhoe James Eliott Theodore Jones, nicknamed Fidget from the age of 2 months, an English aristocrat with extensive holdings of prime upland sheep country in the northern third of England (i.e. everything north of the M4, the other regions being everything within the M25, and everything else), is a renowned mathematician at the Jones Applied Mathematics and Modelling Institute (JAMMI) in Cambridge.
Soon after graduating with honours in the Department of Mathematics at Queenton University, he discovered the subprimetwit number series*, for which he was subsequently awarded the Ig Nobel Prize. This discovery opened the door to a new line of mathematical research that considerably increased the precision of the calculation of trajectories, and hence is directly applicable to aviation, space exploration, submarine technology, bungee jumping, ball and projectile sports, including golf, cricket, darts, and so forth. He is responsible inter alia for the so-called "unbelievable" penalty-free kick goals, the hole-in-one, the all out for 69, and the triple treble tops, beloved of spectators and commentators alike, orchestrated with some regularity by our sporting superstars, and for which he receives not inconsiderable income each time they occur.
As a result of his ground-breaking research, he was awarded the title of  Knight Grand Cross with Collar of the Order of Merit of the Banana Republic, by the president of a football-crazy country in Central America whose identity is a well-kept secret.
More recently, Fidget has been applying his theorems to describing the trajectories of verbal insults over fences-hedges between gardens, and markets volume-direction-elevation instructions to people wishing either to insult neighbours without being identified, or to speak loudly to family-guests without the neighbour hearing details.
Fidget has thus far made appearances in the following Yarns:
_________________
* Subprimetwit number series (SPWMs): any prime number less than one which can be divided by the weekly average number of tweets posted by the least prolific relative or friend, and that is expressed in more than 3 digits. The number of possible SPWMs approaches infinity, so Professor Fidget stopped when he realised that, if expressed in 1mm font on paper, the paper used would circle the Earth so many times that our planet would have the appearance of a ball of yarn the size of the sun.
Jess
Jesse Boone Casey Vine, called Jess in the family but nicknamed Canine by his friends, is the older son of Bo Vine and his wife Jo Gurt-Vine, who have a small 170 hectare mixed farm in Kentucky. Jess, who is 7 years old, is a delightful, kind, even-tempered boy who never thinks of pulling wings off insects, nor pinching or tripping up his younger brother (4), Lincoln Oliver Charles, called Charlie in the family but nicknamed Ovine, and sister (5), Sarah-Louise Catherine Fenella, called Kate in the family but nicknamed Feline, and only occasionally teases his older sister (9), Cindy-Lou Ximena Larissa, called Cindy-Lou in the family but nicknamed Lapine.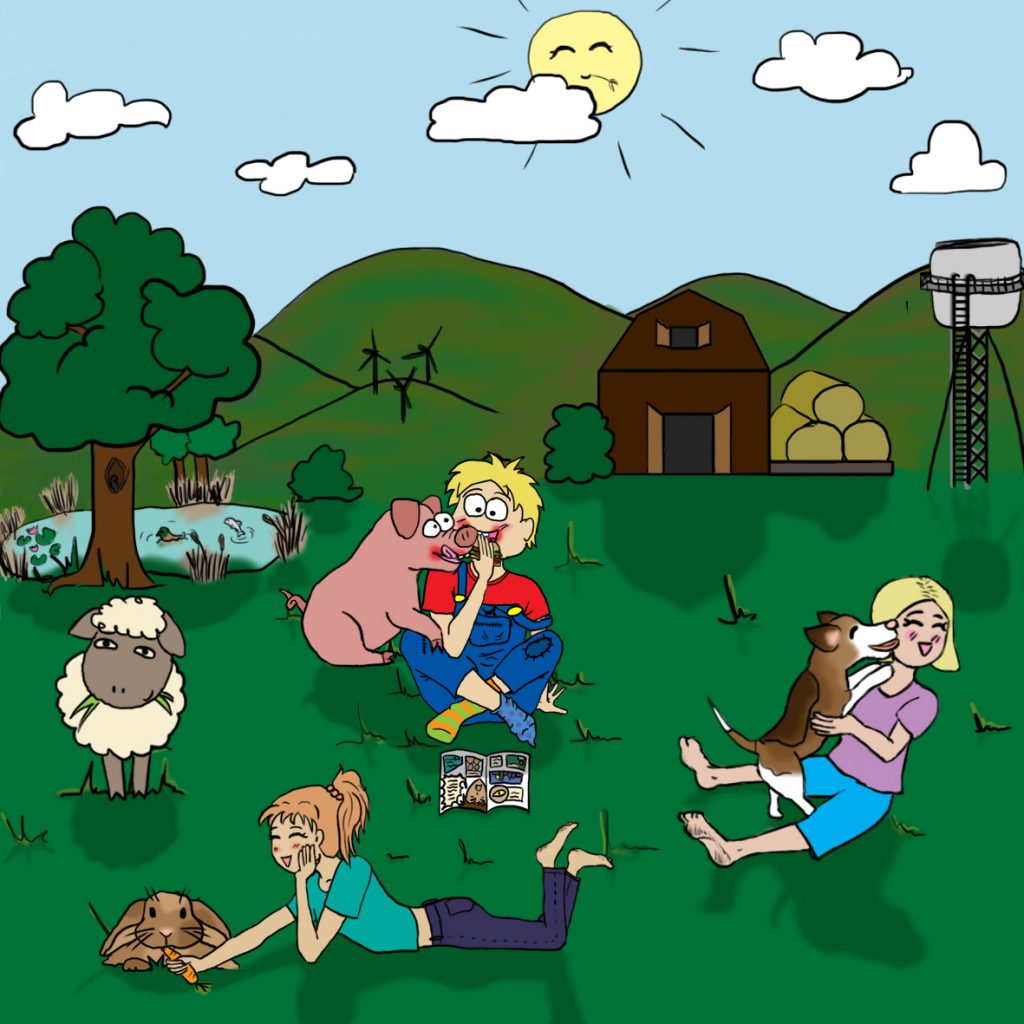 The Vine family, which has had the farm for 3 generations and whose origins are Ireland (Bo's side) and Scotland (Jo's side), have a rather idyllic life. On weekends, when the chickens have been shut up for the night to protect them from foxes, the Vines, together with other members of their extended family who live close by, play blue grass music (Bo plays the banjo and Jo plays the squeezebox). On such occasions, the adults drink a shine distilled in a small dedicated barn (shared with neighbours who reciprocate in kind) from a not terribly exquisite wine made by Bo from 3 of their acres planted with a vine of dubious provenance, but then again may be a rogue muscadine. Such evenings tend to be long and lively and the children try to stay up as long as possible.
When not at school or helping his mum and dad, Jess is running around the farm with his sisters and dog Scamp, rolling in the haystacks, splashing in the creek, fishing in the lake, exploring the woods, or tinkering with old farm machinery. All of the children, like their parents, have high IQs and, when they have the chance, and when not on their smart phones, read avidly.
The family know all about their microbiomes because Gill Jackbert at the Center for Immune Development, Microbiomes and Allergies in Knoxville (CIDMAK), one of several national microbiome research groups he heads, has recruited Jess into a study examining the relationship between childhood exposure to different diversities of microbes and development of allergies. Their working hypothesis is that children growing up on farms and having high levels of contact with animals are exposed to a high diversity of microbes which steer immune system development towards tolerance of allergens. Jess has already definitively declared that he wants to become a microbiologist like Gill when he grows up but then, as we know, childrens' aspirations change as they mature, so he still may well become a train driver.
Jess has thus far made appearances in the following Yarns:
Baaarnaby and Blaaarnaby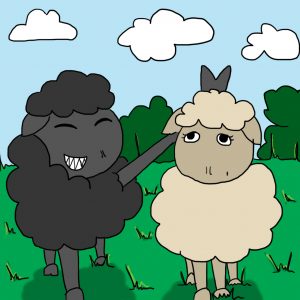 Baaarnaby – white sheep (well, sort of) – and Blaaarnaby – black sheep – are brothers and children of Seana the black Sheep and rams of questionable lineage from a neighbouring farm in the South Island of New Zealand [1]. Both are nice family-centric fellas who play good cop-bad cop roles in Microbiome Yarns. Their celebrity status has led to a quadrupling in price of high-end sport clothing made from better grades of wool from this part of the world. Black wool from Blaaanaby, Larissa – his black sheep wife – and their offspring (black wool is a recessive character) is auctioned for astronomical prices each year and is becoming a rarity investment instrument in these economically uncertain times.
Baaarnaby and Blaaarnaby have thus far made an appearance in the following Yarn:
________________
[1] http://www.stats.govt.nz/browse_for_stats/population/mythbusters/3million-people-60million-sheep.aspx
Polly Perkins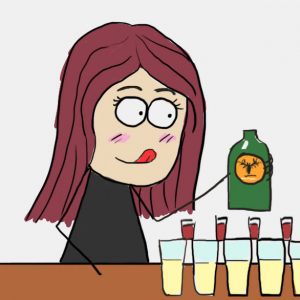 Polly Perkins is a happy, well-equilibrated young lady from Dulwich, London. Her father is a commercial lawyer at a major bank in the City and her mother is a music and geography teacher in a secondary school in Dulwich. Her younger brother, Olly, attends a local 6th. form College and hopes to study Drama in London. The family enjoy both classical and classical rock music and take Summer holidays every year in their holiday cottage in the Tuscany countryside. On the occasional weekend when the weather deigns to be good, they all drive up to the maternal grandparents' farm in deepest Suffolk to laze around, be spoiled, get their comfort food fix, and meet up with old friends.
Polly studies microbiology at a prestigious institution in the capital. She is currently in her final year, is applying for MSc positions and is eager to begin postgraduate research. Her career goal is to become a scholar and conduct academic research, and her greatest wish is to make ground-breaking discoveries about our microbiome.
Polly helps to pay for her studies by working in a number of capacities which reflects her highly-developed multi-tasking facilities. In the Microbiome Yarn series, she has so far worked as a barmaid in the Bulls and Bears, and as a junior hairdresser. When deeply concentrated on something, she has the habit of putting her tongue out the side of her mouth.
Polly has thus far made appearances in the following Yarns:
SaveSave
SaveSave
SaveSave
SaveSaveSaveSave
SaveSaveSaveSave
SaveSaveSaveSave
SaveSave
SaveSave
SaveSave
SaveSave